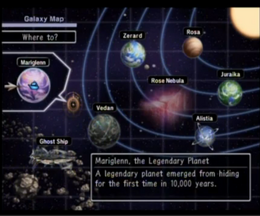 The Wilherser System contains all of the planets that the crew of the Dorgenark can visit during the events of Rogue Galaxy. It is predominantly controlled by the Longardian Federation, but it is implied that other planets beyond those encountered throughout the events of the story exist, as do other systems controlled by other political entities.
Ad blocker interference detected!
Wikia is a free-to-use site that makes money from advertising. We have a modified experience for viewers using ad blockers

Wikia is not accessible if you've made further modifications. Remove the custom ad blocker rule(s) and the page will load as expected.