Opponent Info (Rank C: Round 1)
Edit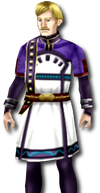 DEMONHEAD: Stinger Bill (King)
SLITHERS: Slitherpede
FREDDY: Hatchet Beetle
BLADER: Blade Beetle
SHABA KNIFE: Knife Beetle
This round is not as difficult as the opponent's Insector make it seems. Stinger Bill and Slitherpede are the only Insectors that can cause some decent damage with their Body Blow. Otherwise the remaining ones; the beetles you have been defeating them in earlier rounds so you have little problems winning this match.

Insectors stats
Edit
Ad blocker interference detected!
Wikia is a free-to-use site that makes money from advertising. We have a modified experience for viewers using ad blockers

Wikia is not accessible if you've made further modifications. Remove the custom ad blocker rule(s) and the page will load as expected.