Opponent Info (Rank D: Round 2)
Edit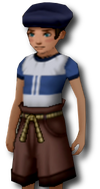 BOSSMAN: Scissorface (King)
FISHIE: Fishface Beetle
SHARK: Blade Beetle
POINTY: Knife Beetle
TUFFLES: Hercules Beetle
Don't position your Insector infront of Fishface Beetle. This one can fires a cannon shell directly at your Insectors. The king is the second Insector you should be careful of. Scissorface can throw your Insectors out of the board if you stay close to the edge. The rest; Blade, Knife and Hercules beetles can be defeated easily.

Insectors stats
Edit
Ad blocker interference detected!
Wikia is a free-to-use site that makes money from advertising. We have a modified experience for viewers using ad blockers

Wikia is not accessible if you've made further modifications. Remove the custom ad blocker rule(s) and the page will load as expected.