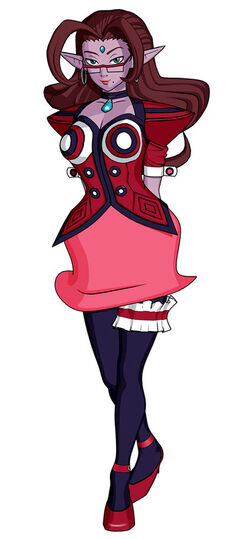 Norma Kissleigh is Valkog Drazer's secretary. Though only a secretary, she is often known to have more control over Daytron and sometimes even gives Valkog orders.
Appearance
Edit
Norma is a purple skinned elf-like humanoid with long, wavy red hair and a light blue jewel on her forehead. Her eyes are also light blue. She has a beauty spot next to her lips on the right side of her face. Around her neck is a dark blue choker with a large teardrop shaped, light blue gemstone attached. She also has large silver hooped earrings. She always wears glasses with a red rim and her outfit consists of what appears to be a dress suit formed of a red jacket with blue, red and white detailing and a pink skirt. She wears dark blue tights with a red and white garter around her left thigh and smart, red high heeled shoes with straps just above her ankles.
Norma's weapon choice is a gun. When fighting her as the second-to last boss in the game as part of the Demon Battleship, she uses massive claws and the jewel on her forehead launches a high powered electrical attack.
Playable characters
Jaster Rogue - Kisala - Steve - Simon Wicard - Zegram Ghart - Lilika Rhyza - Jupis Tooki McGanel - Deego Aegis
Guest characters
Desert Claw
Daytron Corporation
Valkog Drazer - Norma Kissleigh - Dr. Izel - Golba - Donald Pocacchio - Seed
Other characters
Dorgengoa - Monsha - Toady - Raul - Qrann Ijiru - Miri Rhyza - Amni Rhyza - Ugozi - Miyoko and Chie - Henry - Robert - MIO - Mark Pocacchio - Fox Banarge - Vandersch - Alekt Rosencaster - Johnny - Starr - Lucy Dyne - Burton Willis - Angela Seas - Gale Dorban - Zax Morarty - Junia Morarty - Harry - Fritz - Jaus - Nina - Ragnar - Johanna - Freidias - Albioth - Ilzarbella - Sebastian - Arabis
Rosa - Juraika - Zerard - Vedan - Alistia - Mariglenn
Dorgenark - Emperor - Ghost Ship - Ghost Ship Extreme
Directory
Items List, Key Items, Rare Items, Bosses, Enemies, Quarries, Shields, Weapons, Costumes, Weapon Synthesis, Factory, Insector, Frog Log, Revelations
Other
Wilherser System, Transporter, Walkthrough
Ad blocker interference detected!
Wikia is a free-to-use site that makes money from advertising. We have a modified experience for viewers using ad blockers

Wikia is not accessible if you've made further modifications. Remove the custom ad blocker rule(s) and the page will load as expected.