Opponent Info (Rank S: First Time: Round 3)
Edit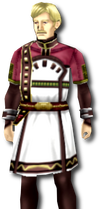 APOLLO: Stellarpillar (King)
PIEROTTE: Mega Mantis
FESTER: Spring Fever
SPANKY: Sunrise Lady
ZERO: Planet Beetle
If you find Spring Fever charing forward take it out before it's allies arrive at it's rescue. Next, defeat Sunrise Lady before it starts healing it's injured allies. Planet Beetle will shoot from behind and make sure it hits the targets. Use one of you Insector as a decoy against Planet Beetle. Preferably Dung Roller or an Insector that can heal. The king won't go down easily so make sure you have a few Insectors remaining at the end.

Insectors stats
Edit
Ad blocker interference detected!
Wikia is a free-to-use site that makes money from advertising. We have a modified experience for viewers using ad blockers

Wikia is not accessible if you've made further modifications. Remove the custom ad blocker rule(s) and the page will load as expected.