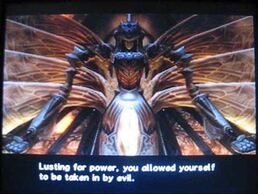 Ilzarbella also known as the Mother of all Rune, is the true name of the main antagionist and formally a sorcerrer of the Era of the Star King.
Although introduced late into the game, Mother is the true source of all the rune plagueing the galaxy. Mother has been on Mariglenn for thousands of years sucking the life from it. Queen Freidias was the one who created the seal to Mariglenn to stop Mother from plaguein the rest of the galaxy. Once Jaster and the crew learn of Mother they quickly travel to Gulza Sanctuary to release their drigellums to create a sword to defeat Mother. The sword is created by Yuvan and is called Zeo Sychros. After traversing Mother's Lair the crew fights and defeats mother. But after the battle mother reveals her true self, Ilzarbella, and attacks Jaster & co. After another fight Jaster, being controlled by the Star King, plunges Zeo Sychros into Mother killing Ilzarbella once and for all.
Playable characters
Jaster Rogue - Kisala - Steve - Simon Wicard - Zegram Ghart - Lilika Rhyza - Jupis Tooki McGanel - Deego Aegis
Guest characters
Desert Claw
Daytron Corporation
Valkog Drazer - Norma Kissleigh - Dr. Izel - Golba - Donald Pocacchio - Seed
Other characters
Dorgengoa - Monsha - Toady - Raul - Qrann Ijiru - Miri Rhyza - Amni Rhyza - Ugozi - Miyoko and Chie - Henry - Robert - MIO - Mark Pocacchio - Fox Banarge - Vandersch - Alekt Rosencaster - Johnny - Starr - Lucy Dyne - Burton Willis - Angela Seas - Gale Dorban - Zax Morarty - Junia Morarty - Harry - Fritz - Jaus - Nina - Ragnar - Johanna - Freidias - Albioth - Ilzarbella - Sebastian - Arabis
Rosa - Juraika - Zerard - Vedan - Alistia - Mariglenn
Dorgenark - Emperor - Ghost Ship - Ghost Ship Extreme
Directory
Items List, Key Items, Rare Items, Bosses, Enemies, Quarries, Shields, Weapons, Costumes, Weapon Synthesis, Factory, Insector, Frog Log, Revelations
Other
Wilherser System, Transporter, Walkthrough
Ad blocker interference detected!
Wikia is a free-to-use site that makes money from advertising. We have a modified experience for viewers using ad blockers

Wikia is not accessible if you've made further modifications. Remove the custom ad blocker rule(s) and the page will load as expected.