Opponent Info
Edit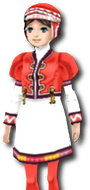 DINAH: Big Staggy (King)
JUNIOR: Super Mantis
PTERON: Flaparound
BOPPER: Hop Skipper
WINNIE: Itsahorse
Flaparound will definitely charge forward in search for your King. Take it out as fast as you can before it blasts away your Insectors. Itsahorse can kick your Insector one square from front and the rear. Make sure your King is not near the edge as long as the horse is on the field. Beware of Big Staggy it can toss your Insectors out of the board if they are close to the edge. Don't expect much from the other Insectors they will go down easily.

Insectors stats
Edit
Ad blocker interference detected!
Wikia is a free-to-use site that makes money from advertising. We have a modified experience for viewers using ad blockers

Wikia is not accessible if you've made further modifications. Remove the custom ad blocker rule(s) and the page will load as expected.