MIO is a famous idol on Zerard who works at the Galaxy Corparation headquarters as a day job. She is, among other things, responsible for renewing Galactic Travel Visas, leading to an altercation with the party. She was also childhood friends with Doctor Pocacchio's son Mark. When she is at one of her famous concerts, a robotic clone called M10 fills in for her at Galaxy Corporation. MIO has her own fan-club, totaling over 78500 members, with Jaster being number 0078500.
Appearance/Personality Edit
MIO is a medium-height, slender female with light skin. She has pink hair, which she keeps in long pigtails, and a hat that resembles a futuristic version of cat ears, with a mouthpiece. She wears a Galaxy Corporation uniform, distinguished by the blue color, while most of the other receptionists wear green.
MIO's personality is that of a stereotypical teenage girl. She is bubbly and upbeat, which adds to her popularity. Many people compliment her on her tenaciousness towards her job. However, she also seems to have a more serious side, as shown during a cutscene in which she smuggles data to Dr. Pocacchio. In this cutscene, it is also revealed that she was a childhood friend of Mark, the deceased son of Dr. Pocacchio.
Opponent Info (Rank S: Second Time: Round 4)
Edit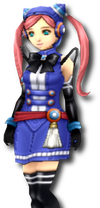 RED EMPRESS: Dark Emperor(King)
BLUE SWORD: Crescent Beetle
SAKURA: Faerie Tot
BIG STAR: Retro Mantis
MARU: Lady Beetle
Faerie Tot will charge forward to attack your Insectors. Take it out in a single turn before Lady Beetle arrives at it's rescue. If you have a Faerie on your side try to charm Crescent Beetle. Pay attention to the movement of Retro Mantis so that it doesn't get the chance of using Sickle Dance. This round is a bit easier than the previous one. As usual make sure you have a few Insectors alive when you are up against the King.

Insectors stats
Edit
Opponent Info (Rank S: Third Time: Round 4)
Edit

RED EMPRESS: Dark Emperor(King)
BLUE SWORD: Crescent Beetle
SAKURA: Faerie Tot
BIG STAR: Retro Mantis
MARU: Lady Beetle
This time the opponent's team is stronger. Each one of them is very dangerous. Since Faerie Tot will advance forward try to take it out in a single turn. Next, defeat Crescent Beetle and Retro Mantis. If you find Lady Beetle moving near its injured allies you should defeat it before it heals them. As usual make sure you have a few Insectors remaining at the end to fight against the king.

Playable characters
Jaster Rogue - Kisala - Steve - Simon Wicard - Zegram Ghart - Lilika Rhyza - Jupis Tooki McGanel - Deego Aegis
Guest characters
Desert Claw
Daytron Corporation
Valkog Drazer - Norma Kissleigh - Dr. Izel - Golba - Donald Pocacchio - Seed
Other characters
Dorgengoa - Monsha - Toady - Raul - Qrann Ijiru - Miri Rhyza - Amni Rhyza - Ugozi - Miyoko and Chie - Henry - Robert - MIO - Mark Pocacchio - Fox Banarge - Vandersch - Alekt Rosencaster - Johnny - Starr - Lucy Dyne - Burton Willis - Angela Seas - Gale Dorban - Zax Morarty - Junia Morarty - Harry - Fritz - Jaus - Nina - Ragnar - Johanna - Freidias - Albioth - Ilzarbella - Sebastian - Arabis
Rosa - Juraika - Zerard - Vedan - Alistia - Mariglenn
Dorgenark - Emperor - Ghost Ship - Ghost Ship Extreme
Directory
Items List, Key Items, Rare Items, Bosses, Enemies, Quarries, Shields, Weapons, Costumes, Weapon Synthesis, Factory, Insector, Frog Log, Revelations
Other
Wilherser System, Transporter, Walkthrough
Ad blocker interference detected!
Wikia is a free-to-use site that makes money from advertising. We have a modified experience for viewers using ad blockers

Wikia is not accessible if you've made further modifications. Remove the custom ad blocker rule(s) and the page will load as expected.