Juraika is a jungle planet full of bugs, fruit and natives located in the Wilherser System. Juraika is full of natural beauty, preserved due to the fact that the native tribes have not changed their ways of life for thousands of years. This is where the crew of the Dorgenark first meets Lilika Rhyza during an unexpected stop when their Booster Oil runs out.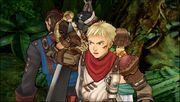 Planetary Profile
Edit
Climate: Humid
Population: Primitive and Sparse
Areas: Rhyzas Swamp, Path to Burkaqua, Burkaqua Village, Path to the Altar, Path to the Ruins, Leo King's Castle
Major Exports: Fire Fruit, Coffee, Insectors
Major Imports: Tourists, Crashing Airships, Archaeologists
Party Members Met Here:
Edit
Areas of Interest
Edit
Playable characters
Jaster Rogue - Kisala - Steve - Simon Wicard - Zegram Ghart - Lilika Rhyza - Jupis Tooki McGanel - Deego Aegis
Guest characters
Desert Claw
Daytron Corporation
Valkog Drazer - Norma Kissleigh - Dr. Izel - Golba - Donald Pocacchio - Seed
Other characters
Dorgengoa - Monsha - Toady - Raul - Qrann Ijiru - Miri Rhyza - Amni Rhyza - Ugozi - Miyoko and Chie - Henry - Robert - MIO - Mark Pocacchio - Fox Banarge - Vandersch - Alekt Rosencaster - Johnny - Starr - Lucy Dyne - Burton Willis - Angela Seas - Gale Dorban - Zax Morarty - Junia Morarty - Harry - Fritz - Jaus - Nina - Ragnar - Johanna - Freidias - Albioth - Ilzarbella - Sebastian - Arabis
Rosa - Juraika - Zerard - Vedan - Alistia - Mariglenn
Dorgenark - Emperor - Ghost Ship - Ghost Ship Extreme
Directory
Items List, Key Items, Rare Items, Bosses, Enemies, Quarries, Shields, Weapons, Costumes, Weapon Synthesis, Factory, Insector, Frog Log, Revelations
Other
Wilherser System, Transporter, Walkthrough
Ad blocker interference detected!
Wikia is a free-to-use site that makes money from advertising. We have a modified experience for viewers using ad blockers

Wikia is not accessible if you've made further modifications. Remove the custom ad blocker rule(s) and the page will load as expected.