Opponent Info (Rank D: Round 5)
Edit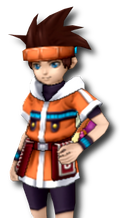 SWAMPY: Rhyzas Looper (King)
FENCER: Blade Beetle
KHAN: Big Bazoo Beetle
ARMADUKE: Hoppin' Mad
SHELDON: Spotted Lady
Finally the one who first told you about Insectors. Considering his team for this round it's not much of a threat. The only one you should be careful of is Big Bazoo Beetle. His cannon shots can easily annihilate an Insector. The remaining Insectors can be defeated easily. Fabre can be defeated only once. After defeat he will be replaced by Burmani.

Insectors stats
Edit
Ad blocker interference detected!
Wikia is a free-to-use site that makes money from advertising. We have a modified experience for viewers using ad blockers

Wikia is not accessible if you've made further modifications. Remove the custom ad blocker rule(s) and the page will load as expected.