Opponent Info (Rank B: Round 1)
Edit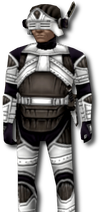 HAIRY: Shangri La (King)
MAGGY: Heart Roller
CORADO: Heart Roller
BUGSBY: Exploder Snail
LADY HAN: Exploder Snail
This round is very easy. Keep track of the two Exploder Snails. Both can drop a bomb where your Insectors are grouped. Good thing is they cannot use this ability instantly. They have to wait for a few turns before they can use the same ability again. Take out the Exploder Snails first. The rest should be easy.

Insectors stats
Edit
Ad blocker interference detected!
Wikia is a free-to-use site that makes money from advertising. We have a modified experience for viewers using ad blockers

Wikia is not accessible if you've made further modifications. Remove the custom ad blocker rule(s) and the page will load as expected.