For the Factory item-making minigame, please click here.
---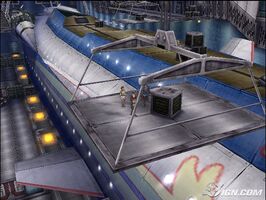 The Daytron Starship Factory of Zerard is the level in which Jaster and company hunt down and fight Jupis after he takes control of the factory and pretty much every other aspect of the government, even the operations of the nearby Galaxy Corporation such as the renewal of Intergalactic Travel Visas. It is currently the property of Jaster much to the annoyance and downfall of Valkog Drazer but to open hearted agreement by Inspecter Star, Dr. Pocchio, the employees and MIO all of which reward Jaster with ideas for construction in the factory, items constructed in the factory are after construction found in shops but eventually the production of the factory's items along with Jaster's other actions culminate in the death of Valkog Drazer, he likely still owns the the factory along with the other Daytron assets left behind.
Story Relevance
Edit
Enemies Encountered
Edit
Bosses Encountered
Edit
Ad blocker interference detected!
Wikia is a free-to-use site that makes money from advertising. We have a modified experience for viewers using ad blockers

Wikia is not accessible if you've made further modifications. Remove the custom ad blocker rule(s) and the page will load as expected.