Opponent Info (Rank S: First Time: Round 2)
Edit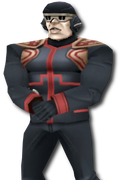 KIDMAN: Military Beetle (King)
CRUISER: Spring Cleaner
DANGER: Springtail Master
CAPRICIOUS: Mick Stagger
SNAKE: Stinger Bill
Protect your king right at the start. Defeat the two flying Insectors as soon as possible. As you already know Mick Stagger can throw your Insectors out of the board so this is another one you need to finish quickly. The king won't go down easily so make sure you have a few Insectors remaining at the end.

Insectors stats
Edit
Ad blocker interference detected!
Wikia is a free-to-use site that makes money from advertising. We have a modified experience for viewers using ad blockers

Wikia is not accessible if you've made further modifications. Remove the custom ad blocker rule(s) and the page will load as expected.